Posts for tag: orthodontics
By Orion Family Dentistry
December 17, 2014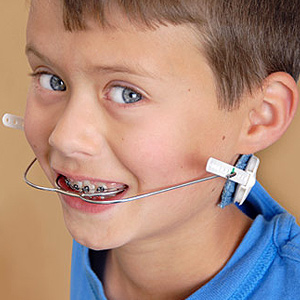 Most of us are quite familiar with what traditional braces look like. But occasionally we see more complex-looking devices being worn by young orthodontic patients: thicker wires that extend outside the mouth, with straps that may go behind the neck or over the chin. What are these devices, and why are they sometimes needed?
In general, orthodontic appliances with external parts braced by the head, neck or chin are referred to as "headgear." These devices may be used to handle a number of particular orthodontic situations, but they all have one thing in common: They provide the additional anchorage needed to move teeth into better positions.
It may come as a surprise that teeth, which seem so solid, can actually be moved fairly easily over time. This is because teeth are not fixed directly into bone, but are instead held in place by a hammock-like structure called the periodontal ligament. Using a light, controlled force — such as the force of springy wires and elastics in traditional braces — teeth can be moved slowly through the jaw bone, like a stick being pulled through sand.
Of course, to pull a stick through sand, you need a firm anchorage — your legs, for example, bracing against a rock. Most of the time, the back teeth, with their large, multiple roots, provide plenty of support. But sometimes, the back teeth alone aren't enough to do the job.
If a very large space between teeth is being closed, for example, the back teeth might be pulled forward as the front teeth are pulled back; this could result in poor alignment and bite problems. In other cases, the front teeth may need to be pulled forward instead of back. The back teeth can't help here; this is a job for headgear.
Some types of headgear have a strap that goes behind the head or neck; they use the entire head as an anchorage. Other types, called "reverse pull" headgear, have a strap that comes over the chin or the forehead; they can pull teeth forward. Headgear can even influence the proper growth of facial structures — that's why it is usually seen on preteens, whose growth isn't yet complete.
Headgear is usually worn for 12 hours per day, for a limited period of time. In some cases, rather than headgear, appliances called "temporary anchorage devices" (TADS) may be recommended. These are tiny screws that are implanted into the jawbone in a minimally invasive procedure, and serve a similar function.
While it may not look pretty, orthodontic headgear is capable of moving teeth into their proper positions in a relatively short period of time — and ending up with a great-looking smile is what orthodontics is all about.
If you have questions about orthodontic headgear, please call our office to schedule a consultation. You can read more in the Dear Doctor magazine article "Moving Teeth With Orthodontics."
By Orion Family Dentistry
November 17, 2014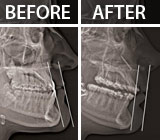 Orthodontics is a specialty of dentistry dedicated to the diagnosis and treatment of misaligned teeth, or malocclusions. The goal is to help patients achieve better long-term oral health by improving teeth alignment. Sometimes, though, the misalignment is much more involved than the position of the teeth — it may be that the jaw structure is also misaligned. In that case, the skills of an oral surgeon may be in order.
The jaws are similar in shape to the arch of a horseshoe, hence the referral to either upper or lower sets of teeth as dental arches. In a normal jaw structure, the lower arch fits just inside the upper arch when you bite down and the teeth are able to function correctly. In some individuals, though, the lower arch closes in front of the upper arch, commonly known as an underbite. If the underbite is only slight, the malocclusion can be corrected by repositioning the teeth only, as with braces. If, though, the underbite is more severe it would require a surgical procedure to realign the jaws, also known as orthognathic surgery.
Orthognathic surgery can help relieve a number of functional complications caused by jaw-related malocclusions: difficulty chewing and swallowing; chronic jaw or head pain; or sleep apnea. It can also enhance the patient's facial appearance by correcting an imbalance between the two lateral sides (asymmetry), or by minimizing a receding chin or protruding jaw.
Its primary benefit, though, is its effect on the patient's bite and tooth alignment. For this purpose, the orthodontist and oral surgeon work together to achieve the best result possible. In some cases, the orthodontist may perform his or her work first by moving teeth into the proper position. This sets the stage for the oral surgeon to perform orthognathic surgery to complete the correction of the misalignment.
Each individual patient's case is different — the best plan of action must begin with a full examination by an orthodontist, and a consultation with an oral surgeon if necessary. It may require time and the expertise of two specialties, but the final result will be better health and a better look.
If you would like more information on various orthodontic procedures, please contact us or schedule an appointment for a consultation. You can also learn more about this topic by reading the Dear Doctor magazine article "Jaw Surgery & Orthodontics."